Our Services -> Fabrication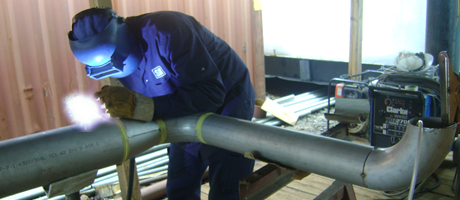 Saumah Metalworks is a young company but whose directors have a combined work experience of over 100 years as supervisors or project managers on projects such as Ajaokuta Steel Plant, Dangote Sugar Refinery, Bua Sugar Refinery, Dangote Fluor, Bua Flour and a dozen of other industrial plants in Lagos and Agbara Industrial Estate, Ogun State.
The company provides sheet metal fabrication as well as heavy metal fabrication for various applications, specializing in the industrial sector. Our years of quality experience, our focus on safety and continual training, and quick delivery, all contribute to our excellent reputation.
Saumah's Fabrication capabilities includes:
Sheet metal & plate fabrication in duct work,
Stainless & Carbon Steel Containers,
Bins & Tanks,
Steel Sheet Corrugating,
Jacketing & Lagging over Insulation,
Dust Collection Systems
Industrial Ventilation Contracting
Surface, Underground, Vertical Storage Tanks of various Capacities and Services
Pipeline Fabrication and Construction of depots turnkey
Steel Structures for Process Industry etc
Spraying Towers
Filling Stations turnkey civil and steel
Petroleum Product Depot: Tanks, Loading Gantry, Piping etc to API standard, PETROL STATIONS, CANOPIES
Tanker & Trailer Fabrications (33,000 to 45,000Lts etc) (Sided and Flat body)
Refurbishment of Tanker Vessels, Tug Boat, Barges, Navigational Bouys, etc
All fabrication in accordance to API 650, API 1104, X-ray welding.
Saumah Metalworks Fabrication capabilities includes:
Structural steel members
Piping for both water and gas pipelines
Stainless and duplex steel piping in process plants
Pipe Bridges
Storage Tanks
Jackets. Tripods, & pipe spools
Manifolds & Skidded Packages
Design and manufacture of steel container buildings for temporary office and construction camp facilities
Construction of Trailer Bodies and Trailer Buckets
Site Offices & Portable Buildings
Utilising the strength and durability of steel shipping containers, Saumah Metalworks portable buildings are rugged and easy to move from site to site.
Suitable for a wide range of applications:
Site Offices
Home Offices
Dangerous Goods Storage
Workshops
Container doors at one end make moving furniture in or out out a breeze.
High Quality Finishing
Saumah Metalworks containers can finish the building to your specifications using a range of high quality aluminium windows and secure doors.
Options include:
Lighting & electrical outlets
Interior insulation
Air conditioning
Burglar bars
Phone and Data jacks